DAR ES SALAAM – Tanzania's former President Benjamin Mkapa, who served between 1995-2005, died in the early hours of Friday, President John Magufuli said in a statement.
Mkapa, the third president of the East African nation and who led several regional peace mediation efforts in office and afterwards, died while receiving treatment at a Dar es Salaam hospital, Magufuli said, without giving more details.
"I call on all Tanzanians to receive the news of his death and to pray for Mzee Mkapa, more
information will be released but Mzee Mkapa is no more" said Dr. Magufuli in a brief television
statement.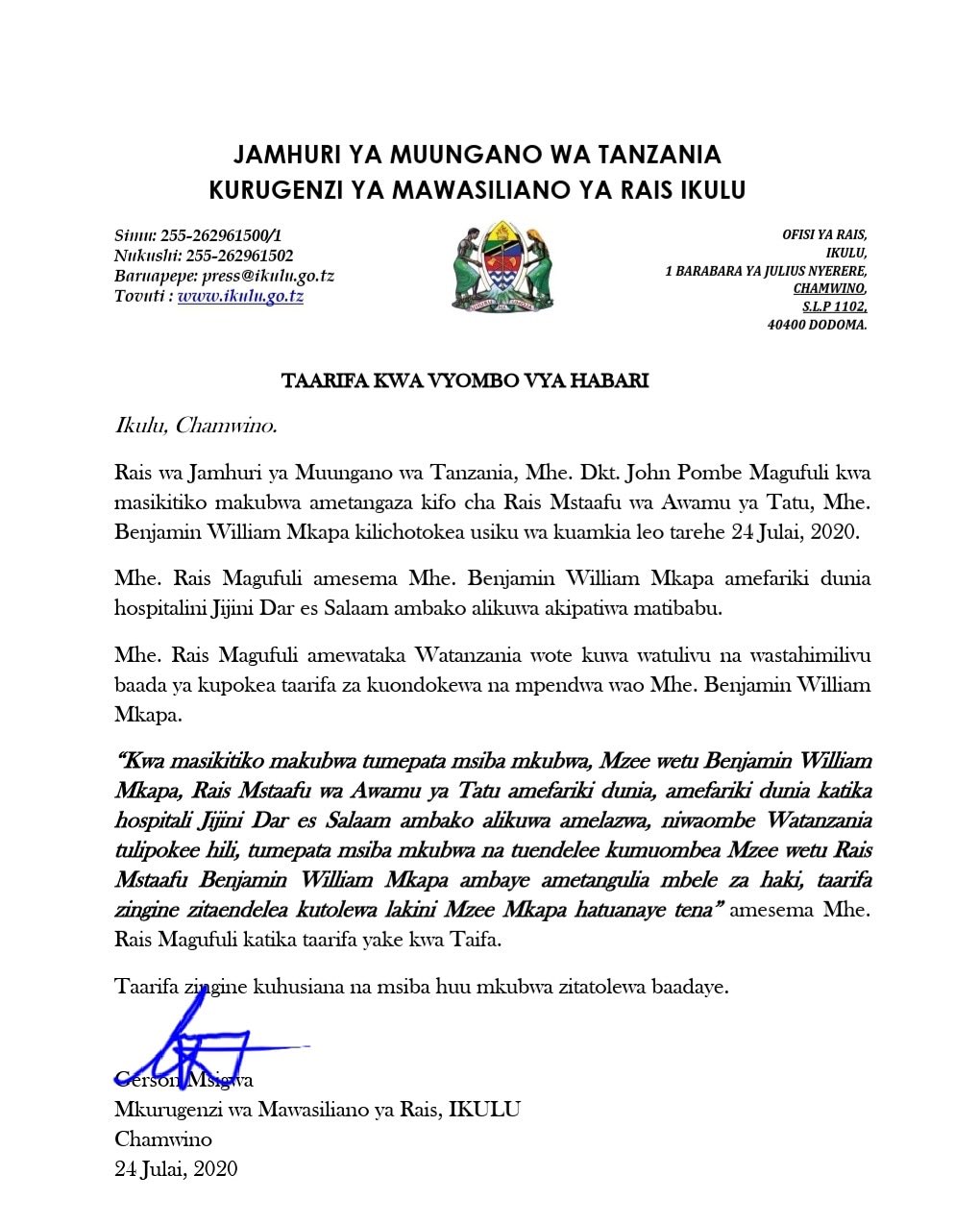 Biography of William Mkapa
Mr. Mkapa was born on 12 November 1938, Masasi (Tanzania). In 1962 he got a Bachelor of Arts degree in English from Makerere University College in Uganda. Benjamin Mkapa worked as a civil servant in the district of Dodoma and Dar es Salaam, which united with Zanzibar in 1963 to form present-day Tanzania. In August of 1962, he was recruited for Exterior Services and four years later he specialized in journalism as the editor of the daily governmental Tanzania Nationalism and Uhuru (1966).
Previously he worked for the Daily News and the Sunday News (1972). In July of 1974, he was appointed Secretary of Press for President Julius Nyerere, and in July of 1976, he launched the Tanzania News Agency (Shihata).
Benjamin Mkapa was a member of the Tanganyika African National Union (TANU)since the beginning of the 1960s.Named High Commissioner to Nigeria in 1976, Mr. Mkapa also occupied a number of important government posts in the late 1970s and 1980s, serving the political party Chama Cha Mapinduzi (CCM, State Revolutionary Party) in the areas of Foreign Affairs, Information and Culture, Information and Broadcasting as well as Science, Technology, and Higher Education.
He was also the High Commissioner in Nigeria (1976), Canada (1982), and the United States Ambassador (1983-1984), all the while belonging to the "Bunge" or Parliament since 1985.
In 1987 Mr. Mkapa became an elected member to the central committee of the Revolutionary Party of Tanzania. In November 1995, Mr. Mkapa won the first democratic elections in Tanzania, as a candidate for the CCM. During his first term, he continued the economic liberalization program initiated by his predecessor, Ali Hassan Mwinyi. In the 2000 elections, Mkapa was elected for a second term which concluded at the end of 2005.
In 2005, he was a member of the Panel of Eminent Persons appointed by the UNCTAD Secretary-General to review and enhance the role of UNCTAD within the United Nations reforms.
In 2006, he served as a member of the High-level Panel on UN System-wide Coherence in areas of Development, Humanitarian Assistance, and Environment, appointed by the United Nations Secretary-General. President Mkapa was appointed in 2006 to be Patron of the UN committee of 2008 International Year of Planet Earth.
In September 2010, President Mkapa was appointed by UN Secretary-General Ban Ki-Moon to lead a special panel to monitor the January 2010 referendum in Southern Sudan. In 2015 he was appointed to facilitate the Burundi Dialogue amid the crisis that sparkled over the third term of late President Pierre Nkurunziza.
Was this article helpful?